Looking back and buckling in for what's ahead
Even those of us who have lived through the many ups-and-downs of the construction industry have never experienced anything like 2020. Last year was anything but predictable, and somewhere around mid-March the patterns and cycles we had come to expect and knew how to respond to, were disrupted by a whole new set of factors. Collectively, we froze.
Today, with 2020 behind us, and nearly a year of pandemic experience under our belts, we can look at how markets responded and where we ended up compared to 2019. Beginning with the newly launched Blue Book Network Velocity Index, we will look at the impact on timing, location and types of projects that were bid on through The Blue Book Network® as 2020 unfolded. Comparing the Index for 2020 to 2019 will highlight the unusual level of market volatility we experienced in 2020. We will then use data from the Centers for Disease Control and Prevention to help explain the impact of COVID-19 on the market. Lastly, we will look to some of the publicly available macro-economic forecasts, along with our new understanding of pandemic drivers influencing the market, to better navigate 2021 and our post-COVID-19 world.
The Blue Book Network® Velocity Index
The Velocity Index was developed in 2020 in part due to the uncertainty and market volatility brought on by COVID-19. The Index measures the direction and magnitude of month-to-month changes in bidding activity in The Blue Book Network, accounting for seasonality. Removing the impact of seasonality and indexing each month's bidding activity to a single point in time (December 2018) more accurately represents the real change in bidding activity. This real change then becomes a better indicator of the trends in bidding opportunities, and thus the market overall.
Indices over 100 indicate greater bidding activity relative to December 2018 and the directional trend of the Index is a leading indicator of what your business can expect to experience in the next one to three months. Given that the Velocity Index is a relative measure of bidding activity and has been constructed to account for seasonality, we would not expect large swings from month-to-month, unless of course, there is a dramatic change in one or more of the drivers that impact the construction market. Identifying these inflection points, and understanding what is behind them, is critical to making informed decisions for your business.
We already know that our world began to change rapidly early in 2020, but let's look at how that was reflected in the Velocity Index. Apart from the first two months of 2019 (the result of a resurgence after a lackluster latter half of 2018), the Index remained in a fairly narrow band between 99 and 108, a variance of less than 10 percent from the base period of December 2018 (See Figure 1).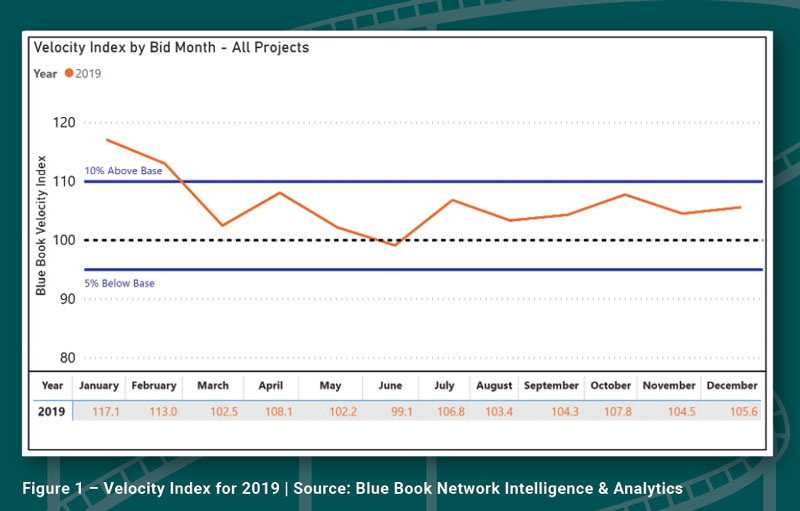 Overall, the monthly Velocity Index for 2019 moderated around an average of just over 106 or roughly 6 percent more activity than 2018. Adding 2020 to the chart illustrates just how volatile the market became as the bottom dropped out in March and April (See Figure 2). The value for April 2020 reached an Index low of 84.6, a 30-point drop from 115.6 in February that, like riding a roller coaster, you felt in your stomach.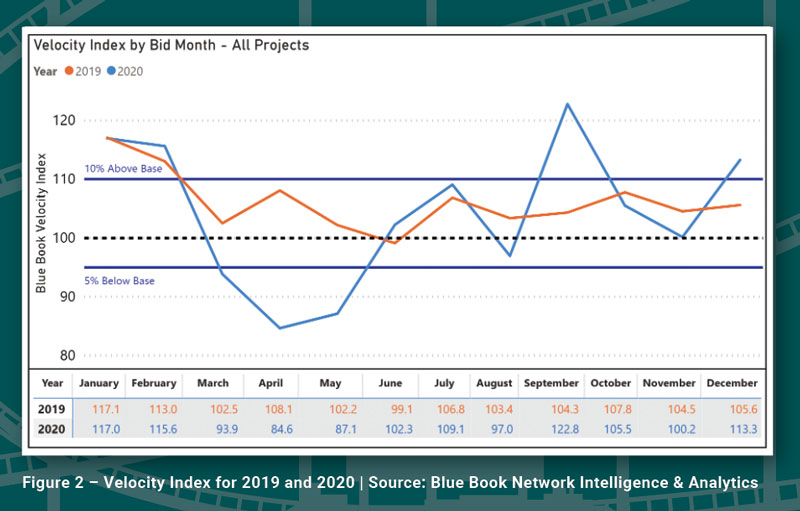 Twenty points of that drop came in March alone as COVID-19 cases began to spike and uncertainty ruled the markets. The Index dropped below 95 for March 2020—more than 5 percent lower than the end of 2018–and began a pattern of wild oscillations as companies delayed bidding projects, then put them back into play as conditions improved. By the close of 2020, the disastrous year was only 3 percent off the 2019 bidding opportunities. Nevertheless, the pains of the year were felt in the timing, location and most significantly in some structure types more than others.
What the Numbers Show
The chart of the Velocity Index for 2020 certainly seems to follow a pattern in response to COVID-19 cases through the year, including the summer recovery when new cases dropped. As we spent more time outside, optimism gave us hope that the worst was over. But while new cases provided the bellwether that the virus was surging, many of the cases ranged from asymptomatic to mild reactions. It was reports of the rapid rise in severe cases and overwhelmed medical facilities that provided a leading indicator of the deaths to come. That got our attention and made us pause. Charting the 2020 Velocity Index and new COVID-19 deaths monthly (reversing the axis for new deaths scale to visually align the negative relationship between the two series) the two were nearly in lock-step (See Figure 3).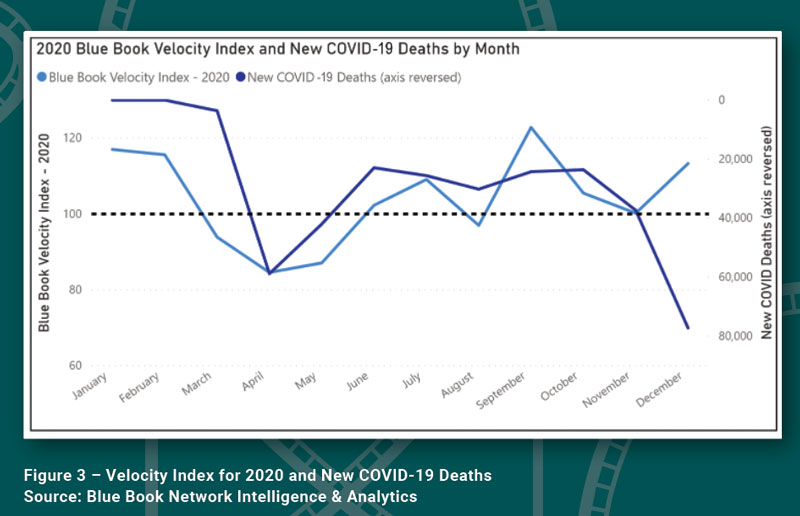 As new deaths rose, so too did our concern for the risks to workers and consumers alike, and the Index reflected the concern and uncertainty we felt. Some of the first states to see a spike in cases and deaths included New York, New Jersey, Connecticut and Massachusetts, where higher population densities made containment difficult. These states were among the first to impose social distancing rules and limitations on gathering size, leading to business closures and operating restrictions. This began the pattern seen for the overall Velocity Index that was reflected in most states, despite some minor variations. Even states in warmer climates, such as Arizona, California, Florida and Texas (where the initial spike in deaths did not come until late summer), the Velocity Index tended to follow the U.S. pattern overall.
The first real divergence is seen in December 2020 when new deaths more than doubled from November, yet the Velocity Index responded by climbing more than 13 percent. A number of factors probably contributed to this inflection point including research suggesting that business restrictions were not as effective at limiting new cases as first thought. 
In addition, social distancing was having an increasingly negative impact on our mental health, and we were simply running out of patience. But, perhaps the most significant influence on our patterns of behavior came as a result of emergency approval and rapid-start distribution of two vaccines. The proverbial light at the end of the tunnel could now be seen, and optimism began replacing despair.
Yet, this does not mean that we are now on the fast track back to normal, nor that normal will look the same when we get there. It is very certain that the pandemic will have unanticipated and long-term impact that we will need to navigate in 2021 and beyond. Despite fairly uniform regional patterns in the Index, project structure types have been impacted inequitably. While many structure types had proven fairly resilient by the close of 2020, a number continue to struggle. Some of these are likely to see their resurgence once we reach herd immunity and can again move freely (such as the Hotel/Motel category) while other markets may be impacted by remote-capable workers migrating away from high-density areas.
It should come as no surprise that the travel industry has been hard-hit in the pandemic. The impact continues to be reflected in the Velocity Index for Lodging (See Figure 4).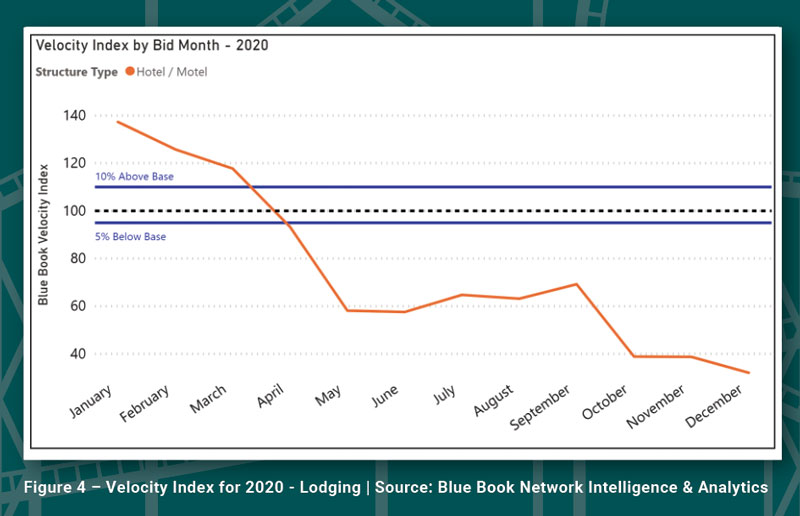 With all signs pointing to a rapid release of pent-up demand once the pandemic ends, the long-term prospects for Lodging appear strong. This is likely also the case for related travel project times such as airline, bus and rail terminals and most structure types in tourist destinations.
The structure types servicing necessary commercial goods and services, such as grocery, restaurants and retail stores, should also see a 
resurgence once we are socially close again. The thing to keep an eye on here is what impact the migration of remote workers will have. It is likely that office buildings will struggle as companies continue to support remote workers and look to downsize in person space. Figure 5 shows the Velocity Index for some of the structure types that may be in the throes of shifting demographics.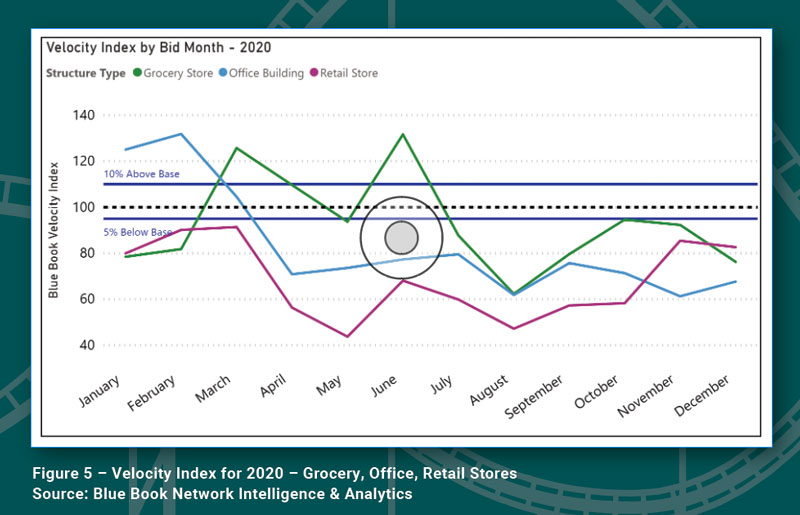 Navigating 2021
In the late summer of 2020, it was apparent that the wild ride that was 2020 wasn't going to stop. However, now we can use our newly acquired pandemic experience to shine a light on what is ahead. With herd immunity not expected until at least early fall, the outlook for 2021 will continue to be dominated by the impacts of COVID-19. What our post-COVID-19 new normal will look like is going to be a mix of recovery from short-term disruptions to market and supply chains, and longer-term fundamental shifts in consumer behaviors as well as the influence of remote worker viability.
Consistent with many of the forecasts, Construction Analytics is predicting continued declines in most categories for 2021 with some of the biggest hits to Lodging, Amusement, Commercial/Retail and Office. Given restrictions on travel and phased re-openings, this is consistent with what The Blue Book Network anticipates. Lodging is expected to continue to struggle in the short term, but a strong rebound is expected from pent-up demand once travel opens up. The longer-term question for Lodging is how business travel will respond following a prolonged period where video calls have become the new norm. Here at The Blue Book Network, where we have always done business in person, we see a hybrid future with people still connecting with each other, via both web meetings and in person. We look forward to again hosting in-person events in the not too distant future. Optimistically, we think of this as a "best of both worlds" approach.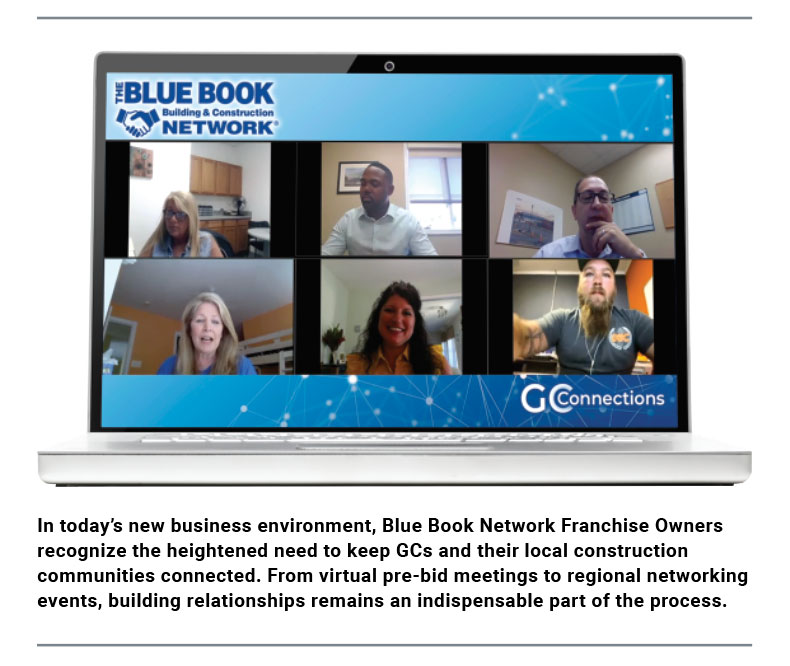 Similar phased patterns of recovery are expected for restaurants, amusement and retail stores as social gathering restrictions are lifted. We will probably see more prevalence of brand-name chains in our post-pandemic world. Chains have a better chance of surviving the restrictions by managing multiple locations, as opposed to the smaller players who struggle to stay alive. Many of these local stores and restaurants will see their opportunity to reopen or begin anew as support for shopping locally remains a trend going forward. Expect the trends of smaller footprints and buy-online, pickup-in-stores trends to continue.
The office market is expected to experience some longer-term shifts. The success of remote working is expected to continue in some companies, allowing a continued pause from increasing urbanization. Some workers will seek lifestyle changes and more affordable housing options in lower-density areas. Moody's Analytics and CBRE, among others, expect office vacancies to remain high through the end of 2021. This migration is worth keeping an eye on. If this pattern continues, or potentially accelerates, the impact to Office Space as well as Retail Stores, Grocery, Restaurants and other categories supporting that population will continue to be reflected in the Velocity Index. Regionally, this would mean that the high-population density area will take longer to recover. It also means that the lower density areas that are attracting these workers may recover sooner as they experience a whole new demand for the services their new neighbors want and need.
We will continue to deliver our monthly Velocity Index updates to keep you all apprised of what we see is occurring in The Blue Book Network and in local construction markets across the U.S.
Be well and be safe!