A New Era Begins
Two industry icons unite to advance the industry — and your business.
Seriously. This is big news.
Every day, the U.S. commercial construction industry relies on two century-old companies to obtain accurate, relevant industry data and to connect with the projects, people, firms and products needed to successfully build its bottom line.
Those two firms are household names: Dodge Data & Analytics (Dodge) and The Blue Book Building & Construction Network (The Blue Book Network). The merger of these two long-standing market leaders results in the joining of their data and technology platforms to create the most comprehensive and the most accurate construction data insights and market intelligence available anywhere. With the linking of these two iconic brands, you reap the benefits by having access to the value of both.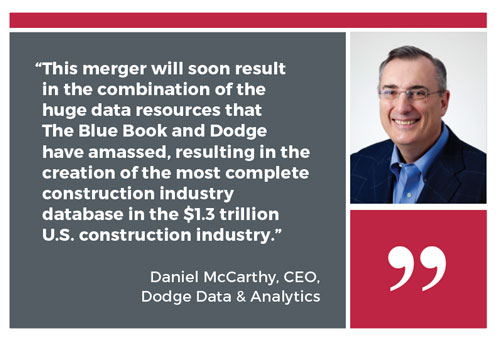 What's in it for You?
When corporate mergers and acquisitions are announced, you often hear the marketing jargon that tells you that the decision will be important to the combined new company. We'd rather tell you why this Dodge/Blue Book Network marriage is a good thing for you.
First of all, both Dodge and The Blue Book Network have been providing companies in the construction industry with data and tools to accelerate revenue strategies—each for over 100 years. By combining the two firm's data, algorithms, complex technology systems and the skills of its 1,200 team members, you now have the full depth and breadth of the combined Dodge/Blue Book Construction Industry Database as well as a host of exclusive trademarked planning, marketing and networking tools.
This news is huge. You will have access to far more information than you ever have before. The resulting proprietary data and insights can become the fuel that empowers increased revenue and profits for your firm. In addition, as the construction world further adapts to the digital transformations that will drive the industry's future, our data will open productivity doors across your entire business life cycle, providing a multitude of enhancements—from CRM platforms to project management workflow tools.
As we take the two most powerful construction data firms and blend their data and analytics, we will provide the most complete view of the pre-construction life cycle, from project planning to construction starts. On an annual basis, the combined firms will power more than 10+ billion data elements (unique for their timeliness and accuracy), generate more than 14+ million project and document searches and disseminate 60+ million annual messages centered around bidding opportunities. "The combined company will impact and serve more than 1.2+ million commercial construction professionals a month who will actively seek out growth opportunities for their companies by tapping into the expanded Dodge and Blue Book digital platforms," says Keith Davies, Dodge Chief Technology Officer.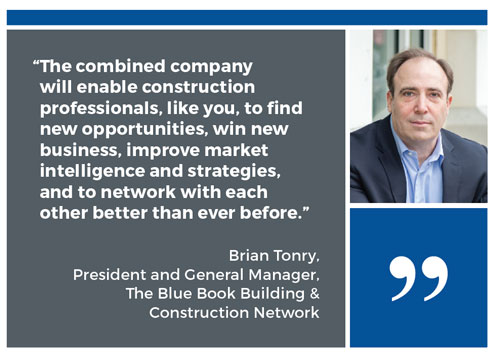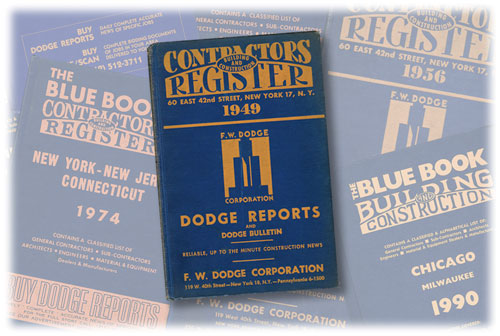 A Hundred-Year Courtship
The marriage of Dodge and The Blue Book Network is the culmination of a business relationship that spans decades.
The two centenarian firms communicated consistently through the years, often helping one another and benefiting from each other's resources. The Blue Book Network, for example, published their iconic directory, Contractors Register, for decades. Often called "the Yellow Pages of the construction industry," this distinctive blue, hard-bound, multivolume directory ultimately graced the library shelves of architects, engineers, contractors and construction consultants nationwide. Recognizing the value of this Bible-like reference tool, Dodge signed on as the sole front cover advertiser for the directory from 1949 to 1994.
On the flip side, Dodge was, for many years, part of McGraw-Hill Construction, the publisher of Engineering News Record (ENR) magazine which remains another industry icon. Over time, The Blue Book Network became one of ENR's most prolific advertisers because it knew that the ENR readership was a prime audience for the services and data its team had to offer.
The corporate cotillion continued through the years. In 2004, Dodge and The Blue Book Network developed an integration plan whereby Dodge created a distribution channel to The Blue Book Network's customer base and The Blue Book Network provided Dodge Project Reports through its BidScope project lead management system.
"The Blue Book Network and Dodge have enjoyed a decades-long partnership, repeatedly working together," says former Blue Book Network CEO Richard Johnson who now serves as a member of the combined company's Board of Directors. As a senior executive at The Blue Book Network since 1988, he has been instrumental in emboldening the relationship between the two firms for over 30 years. "Officially merging our businesses was a natural evolution. Bringing together these two market leaders allows us to innovate faster, develop even more advanced solutions and scale our operations to keep up with the changing demands of our customers and the industry," he adds.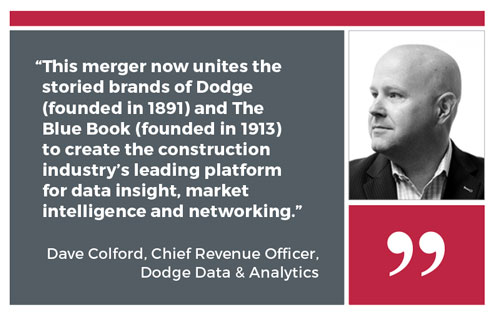 What Can You Expect Down the Road?
The joining of The Blue Book Network and Dodge was orchestrated by Symphony Technology Group (STG), a private equity firm focused on business-to-business data, software and analytics companies. Dodge has been an STG portfolio company since 2014. As an equity firm fixed on technology, STG is responsible for overseeing the pathway that will lead the combined firms to achieve their goal of construction data leadership.
"Combining The Blue Book Network with Dodge allows us to create an indispensable resource for every [construction industry] firm on a local, regional or national level seeking information, connections and unique insights to create new relationships and to grow their business," says William Chisholm, Managing Partner at STG.
As the two companies meld into one, you can expect to see new data products, expanded information systems, increased competitor intelligence and greater local and regional networking opportunities.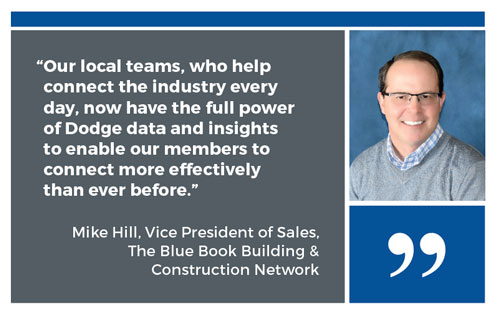 Your Bottom Line is Ours
One unique aspect of The Blue Book Network is its boots-on-the-ground approach to helping you obtain knowledge, data, relationships…and ultimately, customers. Our Franchise Owners spend every day out in the field, working with your teams to generate new work, build new relationships, develop greater database and analysis skills, promote your firm and expand your opportunities. That's their job and that's what they'll continue to do. Now, with the wealth of data and market research that Dodge brings to our collective table, we will be even more astute in assessing your needs, giving you success tools, opening doors and ultimately partnering beside you to build your future.
Our goal has always been to bring buyers and sellers together. Our mission remains four-fold: provide unparalleled information; carefully deploy technology; continuously improve; and uphold an unwavering commitment to ethics and integrity.
The relationship between The Blue Book Network and Dodge will continue to evolve as the two companies transform into one. But nothing needs to change when it comes to our commitment to providing every possible opportunity to help you and your firm succeed. We look forward to a great future for us all!
To put the full power of this exciting merger to work for your business,
contact your local Blue Book Network Franchise Owner or: