From Recession to Recovery
Construction industry forecasts show how well we weather the storm
From Recession to Recovery Construction industry forecasts show how well we weather the storm With Brian Tonry
As The Blue Book Building & Construction Network and Dodge Data & Analytics have joined forces, we are finding great opportunities to merge our resources for the betterment of us all. A case in point is my interview here with Richard Branch, Dodge's Chief Economist. Having a brilliant mind just a phone call away is an incredible asset and we're proud to have a man of Branch's caliber on our team. In the following pages, I'll share with you some of his excellent insights which he shared with me in a recent interview. Once you've read the article, I hope you'll reach out to me with any comments of your own. ENJOY!
Tonry:In a nutshell, how do you think the industry handled the business backlash brought on by a worldwide pandemic?
Branch:The drop off in construction starts as the pandemic hit in 2020 was sudden and severe. Construction bans brought a steep decline in activity; work from home orders injected uncertainty into the market for offices; the lockdown threw the hospitality industry into turmoil; and state and local spending was paralyzed due to budget constraints. Through it all, American construction firms held on and worked with all their might to weather an unprecedented storm. It is heartening to see the economy rebounding and the construction industry once again showing its resilience.
Tonry: How did the stimulus funds impact the construction economy?
Branch: The construction industry—and all industries for that matter—truly received a helping hand from the stimulus measures enacted by the federal government and the Federal Reserve. Consumers and businesses were flush with cash, releasing a tidal wave of economic growth which will extend into 2022. In fact, 2021 and 2022 are expected to be the best two consecutive years for economic growth since 1950-1951.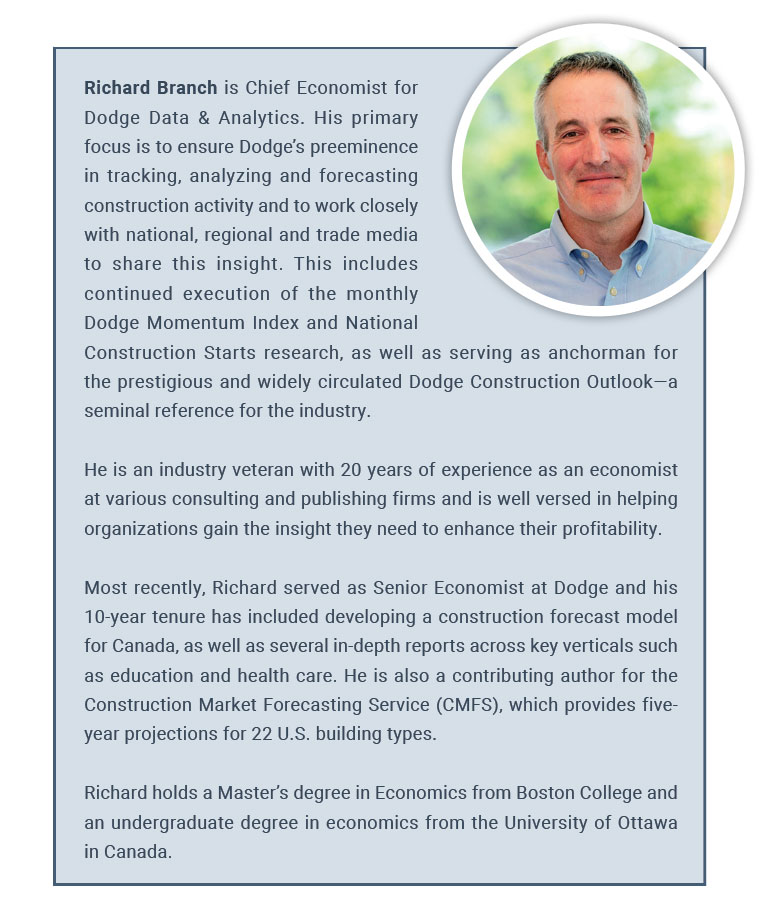 Tonry: If it were to become law, when would we start to see an impact from the Infrastructure Investment and Jobs Act?
Branch: We're assuming that bill that the Senate approved in early August will become law before the end of 2021, although there is a significant amount of uncertainty surrounding that assumption. If it were to pass as expected, we would start seeing the impact in 2022. However, I would offer that the stronger growth from the infrastructure package will happen in 2023 and 2024. The first year tends to be a little slower in terms of the allocation of funds. The impact of that funding will last anywhere between five and 10 years. Highway and bridge construction will be the big winners. That's where most of the dollars are allocated in the plan that the Senate passed in early August. We will likely also see a sizable increase in activity in some of our environmental categories. Plan on market growth in segments related to sewer and water systems and the electric power grid.
Tonry: What are some of the indirect economic impacts that will result from the infrastructure plan?
Branch: Three issues immediately come to mind. Making our transportation system more efficient will improve logistics, roadway safety and traffic management; enhancements to drinking water systems will have a huge impact on communities and the health and welfare of their constituents; and enhancing the country's broadband network to infiltrate rural and under-served communities will have a huge productivity impact, particularly since so many companies are opting for work-at-home options that are spurring an exodus from urban communities.
Tonry: There is mounting concern that we may experience greater inflation, especially in the construction industry. We've watched the price of building materials climb rapidly and we've seen production and logistics issues put projects on hold. Will these challenges continue into the foreseeable future?
Branch: That's a valid question. I commented some months ago that the construction materials market has increased 33% year over year with wood products leading the way. Supply, quite frankly, has just not kept up with demand. Lumber production is a great example. When the COVID-19 pandemic first impacted the U.S., businesses started rambling to adapt, saw mills went dark, normal production was essentially stopped. Plants were closed. Production fell. Supply fell. As the economy weakened last April, May and June, you would have expected that the housing market would have followed that downturn in the economy like it traditionally does. But, as we all discovered, the opposite was actually true. Housing took off like a rocket in terms of new construction and home improvement projects. As a result, the demand for building materials rose while the production of materials sputtered and often stalled. That led to a significant uptick in prices. Today, although the economy is rebounding, prices remain high because production hasn't yet returned to pre-pandemic levels. Finding experienced labor is one of the most significant challenges facing the manufacturing sector. There are currently about half a million open jobs in manufacturing which is the highest number for that sector within the last two decades. I'm hedging that the housing market will cool off a bit in 2021 and that we'll start to see prices level off as production ramps back up to pre-pandemic levels.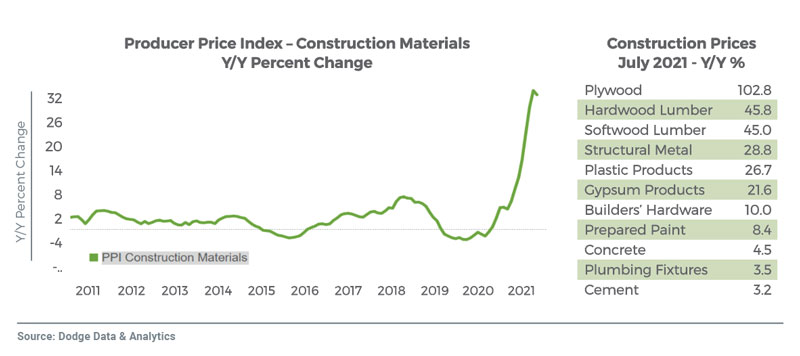 Tonry: One area that seems to have kept its market share is warehousing. Will that continue to be a hot construction market?
Branch: Our data tracks warehousing through its life cycle and what we continue to see is a trend toward multimillion square foot properties. Currently, there are more than enough of those large projects to keep this market sustained for the foreseeable future. We may see demand start to peak in 2023. Currently, the impetus for such robust activity is due to the seemingly insatiable demand for online shopping. We are starting to see some anecdotal reports and evidence that the big warehouse developers and owners, like Amazon in particular, are starting to lease and buy vacant big box space in the suburbs. For example, a former Costco can quickly be converted into a distribution hub to use for that last mile of delivery. We've not seen that come through in our data yet just because our data is so overpowered by new multimillion-square-foot properties that are popping up like dandelions across the country.
It's fair to say that warehouse starts continue to smash records as builders like Amazon, Seefried and Northpoint build massive distribution centers across the country. In fact, there are also many large warehouse projects in the planning stages that those should keep starts elevated for the near term.
Tonry: Data centers have been a pretty solid market. Is that sector continuing to grow?
Branch: Yes, data centers will remain a robust market. The digitization of seemingly everything suggests that data centers can just grow ad infinitum. And it's logical that the market will continue to grow. With more of us working from home, there are more data needs in terms of streaming video and more cloud work. As America builds out its broadband capacity, particularly its rural broadband capacity, data center developers will benefit because they'll continue to need to move those gigabytes across the country in a fairly rapid fashion.
Tonry: What about the office market? With more people working from home, will we see a decline in demand for the future?
Branch: We actually expect the office market to remain above average at least through 2021, and I would even offer that it will stay active through the first half or the first three quarters of next year. Its stability is fueled by renovation work as owners and landlords prepare for workers to come back to the office. Not only are they reconfiguring space, they're also adding more physical barriers in existing open office spaces. They're also improving plumbing and installing things like touchless toilets and hand-washing facilities and touchless doors. They're also paying attention to indoor air quality and investing in improvements and upgrades to air handling and HVAC systems. I expect this trend to continue through mid-2022 as companies bring employees back to the workplace.
Tonry: What can we expect in the retail and hotel markets in 2022?
Branch: Retail construction starts are slow, fed in part by the increase in residential construction in the suburbs. Retail starts remain near historic lows as the shift toward online shopping continues. Similarly, hotel construction remains subdued as the financial impacts of the pandemic restrain growth. While travel has resumed, it is not buoyant enough to push hotel starts into positive territory. Recovery for this sector will surely be delayed.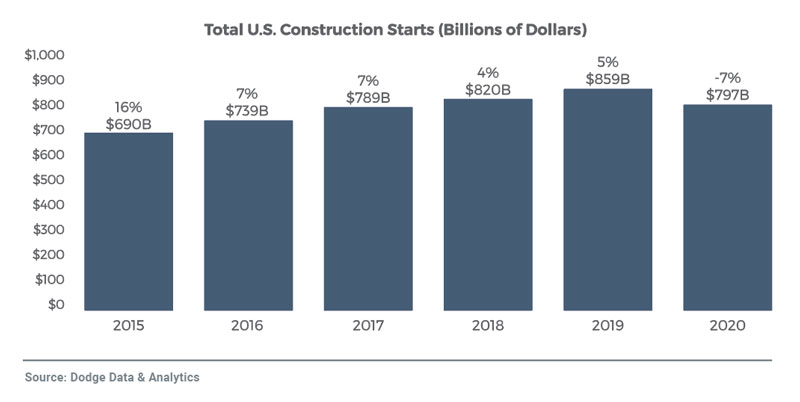 Tonry: Do you see a particular market that has great potential?
Branch: Yes. Health care starts are one institutional sector that is expected to see healthy growth, fueled by aging demographics and a new awareness of the need for enhancing surge capacity for hospitals. Hospital starts, in fact, are expected to outperform clinic and nursing home construction.
Tonry: Has the current economy, with all of its twists and turns, impacted you personally?
Branch: Well, anecdotally, I will say that I did recently have an experience that I would not have had if the economy wasn't in such an unusual space. My family and I took a vacation to visit a friend's working cattle ranch in northeast New Mexico. We saw both ends of the post-pandemic life – the ability to travel and see friends again and get a feel for their life on a ranch in a beautiful country setting. But we also saw in acute fashion the shortage of labor. Our friends explained that they would normally have four or five ranch hands helping them with their herd, but, due to many factors, they can't find the skilled labor. So, they recruited us to help them move some of the cow herd from one pasture to another. Striding beautiful horses, we had an amazing time wrangling 200 head of cattle across the wide-open plains. It was an amazing experience that I couldn't have forecasted – and we'll never forget!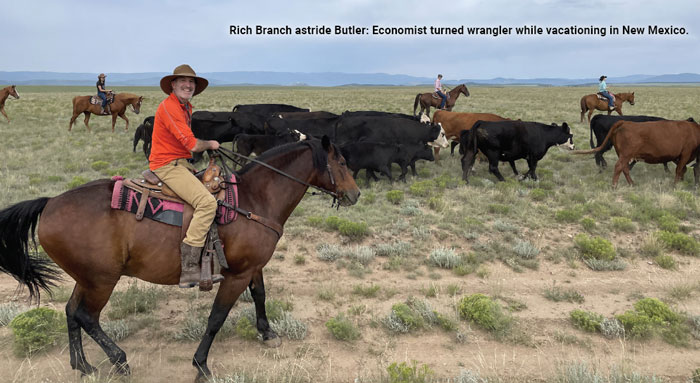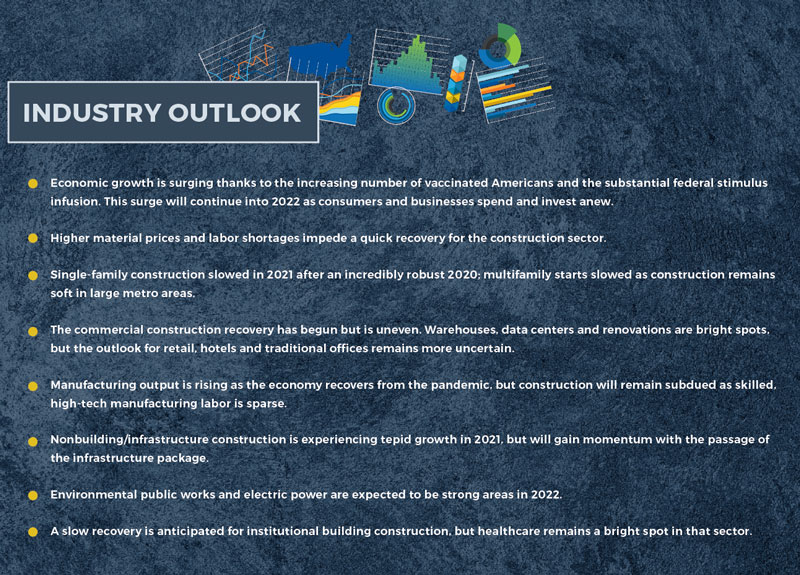 What's Your Outlook?
Dodge forecasts 22 different types of construction from the U.S. down to the county level to provide customizable geographies that match your sales or operations territories. An industry-leading team of in-house construction economists analyze information fueled by a database of over 100,000 projects. We develop personalized research, forecasts and trends that are pertinent to your specific markets and geographies. Want to learn more?
Join us at Dodge Outlook 2022, presented by Dodge Data & Analytics on Wednesday, November 3. Register now to attend this live virtual event at: www.dodgeoutlook2022.com (recorded event will be available after 11/3).